It fills us with pride when we consider the development of the organic market in the last years. With the production of organic sweets we started 30 years ago and are now among the pioneers and market leaders in this field.
On our website you will find all important information about our company and our products!
What we personally understand under "organic"?
Certified food produced by biologically sustainable production cycles based on naturally produced raw materials without the use of any chemical fertilizers, insecticides, pesticides and herbicides.
What distinguishes our organic products?
Very high quality, authentic taste, maximum organic percentage. All raw materials are selected according to the highest taste and quality criteria.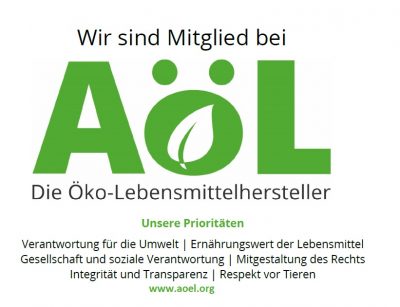 For what stands our brand "Ökovital" regarding to organic?
Highest level of product safety, standardized qualities, authentic raw materials, high taste and enjoyment factor.
Where do we get the raw materials for making our organic sweets?
From contract manufacturers with whom we audit and control the properties and qualities of the output products. For example in the case of fruits we take influence on locations, varieties and maturity during harvest based on years of cooperations. So we can ensure and guarantee both availability as well as observance of our required quality standards. There are no raw materials purchased external by price criteria. They all derive from sustainable and natural production based on long-term closed cooperation agreements.
Which importance have organic sweets in contrast to conventional sweets ?
Highest quality standards with natural ingredients ensure the best taste and high enjoyment factor. Quality instead of quantity, maximum product safety and renunciation of artificial flavors and colors make organic sweets also edible for patients with various food intolerances and allergies. Compared with conventional sweets they are an enjoyable alternative with concomitant health benefits.
How do you differentiate yourself against other manufacturers of organic sweets?
More than 30 years of know how, highest certification and quality assurance have made us to an undisputed leader. Not at least because we maintained and enforced our high taste and quality standards instead of making false compromises for profit maximization.
What is the role

in making your

organic

confectionery

food

intolerances

,

such as

Celiac disease

,

lactose

intolerance

,

etc.

?
We generally take great attention to food intolerances. So not only celiac disease and lactose intolerance patients, also other persons who suffer under food allergies, can find products in our product range which can be consumed safely and without any risk. Avoiding cross contermination by auditing processes is for us everyday buisness and natural.
What role do you see in the theme naturalness and sustainability
?
It is one of the most important parts! We try to make sure that our used raw materials are produced sustainably and without damaging the environment. We have laid out special attention in the selection of manufacturing processes to maintain the naturalness and preserve it in the finished product. We praise out authentic taste which can only be generated by natural resources. In our products the customer can taste the real strawberry or raspberry (by high juice contents) and is not only reminded or is fooled by fruity esters. For example: Mother Nature uses between 300 and 600 various chemicals components to produce a real strawberry flavor whereas aroma is usually assembled from less than 6 components.